STAAR test scores for students in Grades 3-8 are available now.
To access the information, please log into your Skyward Family Access Account, using the button on this site. If you need help with your login or password, please contact your campus.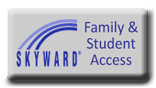 At this time, there are no paper reports to hand out.
Thank you for all you do to prepare your children for success!
---
OPTIONAL ACCESS TO STAAR RESULTS
ACCESSING STUDENT STAAR SCORES IN THE TEXAS ASSESSMENT STUDENT DATA PORTAL
Go to the TEXAS ASSESSMENT MANAGEMENT SYSTEM website

Click on Log In to Student Portal

Click OK in the pop-up box

Y

ou will then be redirected to the Texas Assessment Data Portal.
If you know your student's Unique Access Code, enter it, along with the student's Date of Birth, then click GO.

If you do NOT know your student's Access Code, click on the Lookup Access Code link.

Enter the Student's First Name, PEIMS ID (either the Social Security Number or the State ID Number), and Date of Birth. Then click GO.

The student's Access Code will automatically populate. Click GO again.
Once you've successfully entered the Unique Access Code and Date of Birth, the student's test history will be displayed on the screen. Click on any test name to view its details.
To obtain an electronic copy of the 2017 STAAR Report Card, click the Download PDFs button in the upper-right corner.
Click on the test administration to view the STAAR Report Card.
The system will generate a PDF file suitable for download / printing.
NOTE: STAAR Report Cards for Spring 2017 EOC are available through the Portal as of June 12, 2017. STAAR Report Cards for Spring 2017 Grades 3-8 will be available through the Portal on June 30, 2017. For Confidential Student Reports from STAAR administrations prior to Spring 2017, contact the school at which the student tested.